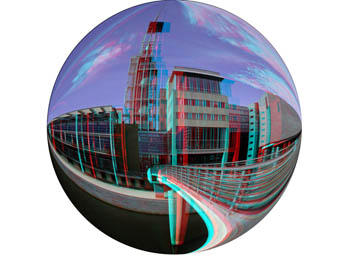 2016:
The members of the SeKtion Stereo arrange the exhibition "30 Years Provincial Capital St Pölten".
30 3-D images - some historic images from the years when the government buildings were built and contemperary stereo photos give evidence of the development of the city St Pölten. The Mayor of St Pölten Mag Matthias Stadler opened the exhibition.
2014:The second 3D Festival in Wien in the cultural Center Spittelau
The second 3D-Festival in Vienna addressed the youth and education. 140 students were introduced to the special art of stereoscopy.
The 3D Gaming Corner, the 3DPrinter, Mona Lisa in 3D and the 3D anaglyph images of the gallery enjoyed the young and young by heart. Besides the multimedia shows a lot of presentations addresses stereoscopy, 3D gaming and Virtual reality. For the first time a gallery of 3D award winning images were exhibite
2012: The first 3D Festival in Wien in the Museumsquartier Wien Trailer ansehen
More than 1200 visitors saw the exhibitiion, guests of 11 nations ( f.i. USA, Japan) enjoyed the program: 52 modern 3D-oeuvres of autors and artists from Japan, USA, UK, NL, D, CZ, SLO and Austria were shown on 3D-TV, Fujiviewer and holograms.
70 3D-AV international Shows provided information and entertainment. For the first time in Austria were the documentation "History of 3-D" of Brian May and an exhibition of historic stereofilms and -photographs. Further the Kaiserpanorama equipped with 100 historic stereo images of Vienna wowed the visitors.